About Us
Jessica Jane Paramedical & Natural Beauty Therapy was founded in 2010 by local Dubbo woman Jessica Cross.

Jessica Jane originally started in Wellington, a small town 30min drive from Dubbo. This is where Jessica would make her mark on the beauty industry. In Wellington Jessica Jane flourished and gave Jessica the confidence to move the business to Dubbo's CBD.
Jessica has been awarded Dermalogica Expert status, recongnising her as one of the highest trained skin care professionals in the country.

As a therapist Jessica has completed on-going postgraduate education at the International Dermal Institute, training with the worlds leading professional skin care brand, Dermalogica.

To achieve this Expert status, Jessica has completed a succession of specialist product, treatment and business workshops, and unique workshops which are offered only to the most skilled and knowledgeable therapists in order for Dermalogica to award and recognise them as the best in the industry.

Roslyn Cross a nail technician and Jessica's mother joined the team when the salon opened in Dubbo, July 2012. Roslyn also a local Dubbo woman started her journey in Wellington.

Both Jessica and Roslyn strive to make every visit excel the last. With a combination of over 25 years in the beauty industry both Roslyn and Jessica say "we love our job". While offering our clients cutting edge technologies with the finest products, we also aim to make your professional treatments tranquil, relaxing and an escape from every day stresses.
We hope to see you at Jessica Jane Paramedical & Natural Beauty Therapy soon…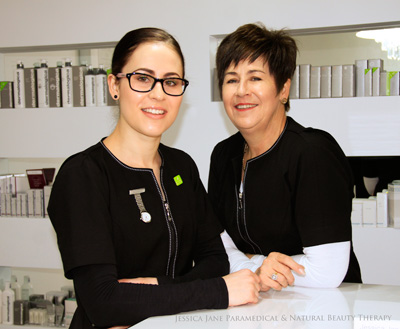 Roslyn | Nail Technician : Thursday - Friday - Saturday
Jess | Beauty Therapist : Tuesday - Alternate Friday + Saturday